ROMANS 3:23

For all sinned and fall short of the glory of God.


JOHN 3:19

...Men having loved the darkness more than the light, for their works were evil.


EPHESIANS 2:3

Conducted ourselves formerly in the lusts of our flesh and of the understandings and were
by nature the children of wrath....


EPHESIANS 2:12

That at that time you were without Christ, alienated from the comonwealth of Israel and strangers
of the covenat of promise having no hope and without God in the world. ​
SERENITY PRAYER

GOD, GRANT ME THE GRACE TO HAVE THE SERENITY TO ACCEPT THE THINGS I CANNOT CHANGE, THE COURAGE TO CHANCE THE THINGS I CAN AND THE WISDOM TO KNOW THE DIFFERENCE, NOT MY WILL, BUT THY WILL BE DONE.


​​​

THE LORDS PRAYER

OUR FATHER WHO IS IN HEAVEN, SANCTIFIED BE YOUR NAME. LET YOUR KINGDOM COME; LET YOUR WILL BE DONE, AS IT IS IN HEAVEN, ALSO ON THE EARTH. GIVE US TODAY OUR DAILY BREAD, AND FORGIVE US OUR DEBTS AS WE ALSO FORGIVE OUR DEBTORS. AND DO NOT LEAD US INTO TEMPTATION, BUT DELIVER US FROM EVIL, FOR YURS IS THE KINGDOM AND THE POWER AND THE GLORY TO THE AGES
AMEN.​​​​​​
​​​
Are you able to admit that you are a sinner, that sin is stronger than you, that you cannot overcome sin by yourself, that you tried, but cannot do it. That you need help from outside of yourselves, from a power greater than yourselves, God and Jesus Christ, that only he can give you the Grace to start overcoming sin. I surrender myself to the only One, God and Jesus Christ, that can change me and that only he can change me into what he wants me to be. That apart from God's mercy, he is justified to ​throw all of us into hell, that's the only thing we all deserve.
​Then you may be ready for the answer.​
JOHN 3:16 FOR GOD SO LOVED THE WORLD THAT HE GAVE HIS ONLY BEGOTTEN SON, THAT EVERYONE BELIEVING INTO HIM SHOULD NOT PERISH, BUT HAVE EVERLASTING LIFE.

2CORINTHIANS 5:21 FOR HE MADE THE ONE WHO KNEW NO SIN TO BE SIN ON OUR BEHALF, THAT WE MIGHT BECOME THE RIGHTEOUSNESS OF GOD IN HIM.

2CORINTHIANS 8:9 FOR WE KNOW THE GRACE OF OUR LORD JESUS CHRIST, THAT BEING RICH BECAUSE OF YOU HE BECAME POOR, SO THAT YOU MIGHT BECOME RICH BY THE POVERTY OF THAT ONE.

ROMANS 5:6+8 FOR WE YET BEING WITHOUT STRENGTH, IN DUE TIME CHRIST DIED ON BEHALF OF UNGODLY ONES... BUT GOD COMMENDS HIS LOVE TO US IN THIS, THAT WE BEING YET SINNERS, CHRIST DIED ON BEHALF OF US.​​​​​​

EPHESIANS 1:7 IN WHOM WE HAVE REDEMPTION THROUGH HIS BLOOD, THE REMISSION OF TRESPASSES, ACCORDING TO THE RICHES OF HIS GRACE.

EPHESIANS 2:4+5 BUT GOD, BEING RICH IN MERCY, BECAUSE OF HIS GREAT LOVE WITH WHICH HE LOVED US, EVEN WE BEING DEAD IN SINS, HE MADE US ALIVE TOGETHER ​​​​WITH CHRIST, BY GRACE YOU ARE BEING SAVED,
SO WITH ALL THIS GOOD NEWS, NO ONE SHOULD PERISH, NO ONE SHOULD GO TO HELL, BECAUSE JESUS CHRIST DIED FOR OUR SINS --- SO WHAT COULD BE THE PROBLEM??
JAMES 4:6

BUT HE GIVES GREATER GRACE, BECAUSE GOD SETS HIMSELF AGAINST PROUD ONES, BUT HE GIVES GRACE TO HUMBLE ONES.
SO ARE YOU WILLING TO HUMBLE YOURSELVES BEFORE GOD, AND BY HIS GRACE ACCEPT THAT HE DIED ON THE CROSS FOR YOU, REPENT OF YOUR SINS, ASK HIM TO COME LIVE INSIDE OF YOU, BORN YOU ANEW, WASH ALL YOUR SINS AWAY AND GIVE YOU A NEW HEART AND START A NEW LIFE IN CHRIST, WITH HIM AS YOUR LORD AND SAVIOR?
SO PRAY LIKE THAT AND SURRENDER YOURSELF TO A SAVIOR WHO IS ABLE TO SAVE THE WORST TO THE UTTMOST AND TO A LORD THAT THAT IS THE ONLY LORD INDEED!!!!​
And you can begin a new life in him, escaping living according to the flesh and learning to live by the spirit and you will begin to start to see things very differently and you will start having new desires, desires of wanting to get closer to Jesus Christ, get to know him and his plans for you...
​​

​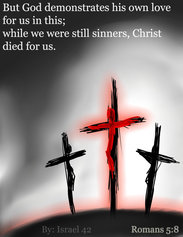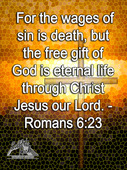 Are you a sinner?
Have you ever done something wrong, ​either once or habitually? Then, YES, we have a problem!
​We are in trouble with God. It will not end well with us....and doing good things, trying to straighten ourselves out, even doing religious duties will not change the facts, we are guilty, we broke God's laws, guilty as charged...
And justice will and must be served. We cannot "make up" for all the wrongs we have done.
Are you powerless? Ever notice, how you don't want to do wrong, but you end up doing it anyway?
You might say, I'm not going to do that, but eventually you do it anyway. Or I will never do that again, but instead you do worse and worse. I am powerless of myself, I don't have it in me, of myself, to do what's right.
I need a Higher Power to deliver me from self destruction.​​​
Romans 9:15,16
for He said to moses, " I will have mercy on whomever I will have mercy, and I will pity whomever I pity." So then, it is not of the one willing, nor of the one running, but of the One having mercy, of God.
Ever since we were little, we were taught to look to ourselves for the answers. From; "look, mom, dad, i did it" to our parents telling us "you can do it" to our teenage years, where no one could tell us anything, because" we knew everything already" we were taught to look to ourselves, pride of man.
And the older we got the worse it got; and all the while we were making a wreckage of our life, ruining it and getting worse and worse and thinking how great a job we were doing.
And also getting further and further away from our creator, God. The one who has all the answers!​​