Faith in action, examples of Faith!
Matthew 14:24-32
But the boat was already in the middle of the sea, distressed by the waves, for the wind was against it. But in the fourth watch of the night, Jesus went out to them, walking on the sea. And seeing him walking on the sea, the disciples were troubled, saying, it is a phantom! And they cried out from fear. But immediately Jesus spoke to them, saying, have courage, I AM! DO NOT FEAR. And answering him, Peter said, Lord, if it is you, command me to come to you on the waters. And he said, COME! And going down from the boat, Peter walked on the waters to go to Jesus. But seeing the strong wind, he was afraid, and beginning to sink, he cried out, saying, LORD, SAVE ME! And immediately stretching out the hand, Jesus took hold of him, and said to him, little-faith, at what did you doubt? And coming into the boat the wind ceased. And those in the boat came and worshiped him, saying, Truly YOU ARE THE SON OF GOD. ​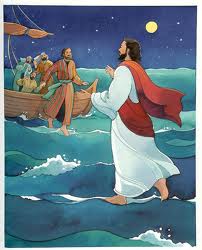 The whole point here, Peter trusted Jesus, therefore when Jesus called him to walk on the water, Peter jumped out of the boat and walked on the water with Jesus and as long as his eyes were on Jesus, he walked on the water, when he took his eyes off Jesus and looked at the scary surroundings, he started to sink! But Jesus didn't let him sink, he came and rescued him.
So the lesson for us is, life has all kinds of ups and downs, stormy times and calm times - as long as our faith is in our creator, as long as we entrust our soul to him, as long as we cling to him, believe what he has promised us; we will be walking on the water with him!​

as you believe, so let it be to you!
​And Jesus, entering into Capernaum, a centurion came near to Him, begging Him, and saying, Lord, my child has been laid in the house, a paralytic, being grievously tormented. And Jesus said to him, I will come and heal him. And answering, the centurion said, Lord, I am not worthy that You should enter under my roof, but only speak a word and my child will be healed. For I am also a man under authority, having soldiers under myself. And I say to this one, Go; and he goes; and to another, Come; and he comes; and to my slave, Do this; and he does it. And hearing, Jesus marveled, and said to those following, Truly I say to you, Not even in Israel did I find such faith. But I say to you that many will come from east and west, and will recline with Abraham and Isaac and Jacob in the kingdom of Heaven, but the sons of the kingdom shall be cast out into the outer darkness. There shall be weeping and gnashing of the teeth. And Jesus said to the centurion, Go, and as you have believed, so let it be to you. And his child was healed in that hour. Matthew 8:5-13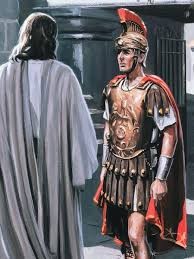 O woman, great is your Faith
And going out from there, Jesus withdrew to the parts of Tyre and Sidon. And, behold, a woman of Canaan coming forth from those borders cried out to Him, saying, Have pity on me, Lord, Son of David! My daughter is badly demon-possessed. But He did not answer her a word. And coming near, His disciples asked Him, saying, Send her away, for she cries out after us. But answering, He said, I was not sent except to the lost sheep of the house of Israel. But coming, she worshiped Him, saying, Lord, help me! But answering, He said, It is not good to take the bread of the children to throw it to the little dogs. But she said, Yes, Lord; for even the little dogs eat of the crumbs falling from the table of their lords. Then answering, Jesus said to her, O woman, great is your faith; let it be to you as you desire. And her daughter was healed from that hour.​
Matthew 15:21-28​