​
PRAYER
​Communicating with God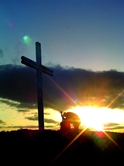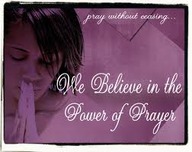 LUKE 11:1-13
And​ it happened as He was praying in a certain place, when he ceased, one of his disciples said to him, Lord teach us to pray, as John also taught his disciples. And he said to them; when you pray, say, Our Father who is in heaven, hallowed be your name, let your kingdom come, let your will be done on earth as it is in heaven. Give us our needful bread according to a day
and forgive us our sins, for we ourselves also forgive everyone indebted to us. And bring us not into temptation, but deliver us from the evil.​And he said to them
who out of you shall have a friend and will come to him, friend, lend me 3 loaves. For a friend of mine arrived to me from a journey, and i do not have what i may set before him. And answering ​from within that one may say, do not cause me troubles. The door has already been shut and my children are in bed with me. I cannot rise up to give to you.
And i say to you, even if rising up he will not give to him because he is his friend, yet because of his shameless insisting, rising up he will give him as many as he needs.
And i say to you, Ask, and it will be given to you
seek, and you will find;
knock, and it will be opened to you.
For everyone asking receives, and the one seeking finds, and the one knocking, it will be opened. And what father of you, if his son asks for a bread, will he give him a stone? And if a fish, will he give him a snake instead of a fish? And if he should ask an egg, will he give him a scorpion?
Then if you being evil know how to give good gifts to your children, how much more the Father out of heaven will give the Holy Spirit to the ones asking him.​​​​​​​
You like talking with your best friends, don't you? If you have children, you want them to talk to you, right?
When you are lost, don't you ask for directions? Help?
In the same way, God likes us to talk to him. Prayer is our way of communicating with Our Father and the Lord Jesus Christ.​
So God is a very pleasant help in time of trouble. (psalms 46:1)
Cast all your anxieties on him, for he cares about you. ( 1 Peter 5:7 )​​​
Simply put, prayer is talking with our heavenly Father and his son Jesus Christ. You can pray in your mind or in your heart, out loud or silent, on your knees, in your bed or sitting on a chair. You can pray alone or together with others.( in church, at bible study, with family or friends, at table before you eat, or before you go to sleep, etc...) It always is an excellent way to start your day by praying to our heavenly Father and to end the day in prayer! There are no set words to say, most important is that you pray from your heart. On the side bar you can see what Jesus said when his disciples asked him to teach them how to pray. If it matters to you, it matters to our heavenly Father! So tell him, no matter is too small or big or too unimportant to our heavenly Father. But on the other hand, saying prayers by rote or repetition, or saying the same words over and over again, is not what our heavenly Father wants.
Prayer is us drawing closer to God and he promises to draw closer to us.​ The closer you get to God, the more you will want to pray.
As a new Christian, learn to bring everything to God in prayer. We are so used to depending on ourselves for everything, it is a very bad habit for us. It will take time, training and patience to form new habits.
A very good habit to practice is, first thing; pray. Not the last thing, FIRST THING; PRAY!
​​​
Prayer is an excercise of Faith!
God answers prayers! And we are not able to see God until we are in heaven, so it takes faith to talk to someone you can't see. And it takes faith to belief that he will answer you. And he does!!
"Ask and you will receive," Jesus says. If two of you agree on anything on earth they ask, it will be done for them by my father in heaven.(matthew 18:19)
Prayer is very powerful.( people been prayed into office and out of it, kingdoms have fallen by prayers...)
the bible and christians have many testimonies how prayer works.​​
Pray constantly and without ceasing.

1 Thessalonians 5:7+17​
We pray; not only to ask our heavenly Father, but also to express our gratitude for everything he has and is and also will do for us.
I'm sure your list is quite long of all the things that the Lord has done for you and ones around you!
Most of all we are thankful that our heavenly Father sent his son Jesus Christ to die for us, take our place, take our punishment.
We thank God for saving us, yes, why me? He didn't have to, is not obligated to me, I don't deserve it at all.
We thank God for helping us, changing us, answering our prayer, being a present help in time of trouble, and the list goes on and on.....​​​​
We pray for others, our families and friends. But not only for those we like, but also for our enemies; instead of getting angry at others, pray for them. Instead of catching an attitude, because of what you feel someone did to you, pray for them.
Also pray for others salvation, because we really don't want anyone to perish.​
We ask our heavenly Father to lead us with His spirit. To guide us in his ways, to change us to his glory! We ask for more grace to help us overcome and resist the evil one and temptations.
We ask him to reveal his word to us, to help us understand​