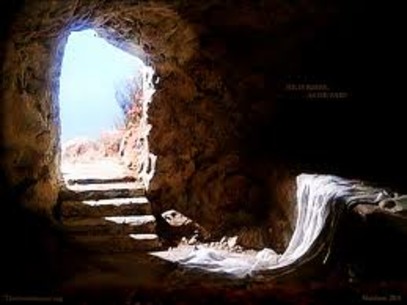 But on the first of the
Sabbaths
, Mary Magdalene came early to the tomb, darkness yet being on it. And she saw the stone had been removed from the tomb. 2 Then she ran and came to Simon Peter, and to the other disciple whom Jesus loved, and said to them, They took away the Lord out of the tomb, and we do not know where they laid Him. 3 Then Peter and the other disciple went out and came to the tomb.
4 And the two ran together, and the other disciple ran in front more quickly than Peter and came first to the tomb.
5 And stooping down, he saw the linens lying; however, he did not go in. 6 Then Simon Peter came following him, and went into the tomb and saw the linens lying. 7 And the grave cloth which was on His head was not lying with the linens, but was wrapped up in one place by itself. 8 Therefore, then the other disciple also entered, he having come first to the tomb, even he saw and believed. 9

For they did not yet know the Scripture, that it was necessary for Him to rise from the dead.

10 Then the disciples went away again to themselves.

John 20:1-10
5 But answering, the angel said to the women, You must not fear, for I know that you seek Jesus who has been crucified. 6 He is not here, for He was raised, as He said. Come, see the place where the Lord was lying. 7 And going quickly say to His disciples that He was raised from the dead. And behold! He goes before you into Galilee. You will see Him there. Behold! I told you. 8 And going away from the tomb quickly, with fear and great joy, they ran to report to His disciples.

Matthew 28:5-8
Romans 1:4
​Who was marked out the Son of God in power, according to the Spirit of holiness, by the

Resurrection of the dead

, Jesus Christ our Lord;
The Resurrection is the proof that Jesus Christ is the Son of God!
That Jesus Christ is who he said he is! God's only begotten Son!​