How do you come to know God?
INSPIRATION FROM C. H. SPURGEON'S SERMON # 2006
u
ntil we all may come to the unity of the Faith and of the FULL KNOWLEDGE OF THE SON OF GOD, to a full grown man, to the measure of the stature of the fullness of Christ, Ephesians 4:13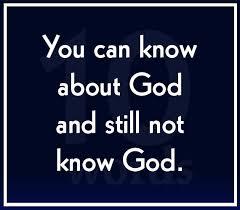 But grow in grace and KNOWLEDGE of our Lord and Savior, JESUS CHRIST
2 Peter 3:18​
A
lot of us grow up in rituals about God, or think that God is like an institution or a religion.
There are alot of different ideas running wild about God in this world and alot of things are believed about God that have been passed down for generations and now everyone accepts them as truths. And alot the problem in this world is that nobody really cares about the truth of God.
So how can some one get to know God?
Find out who He really is, what He is really like, start to get to know Him.​​
Have you ever met some one for the first time, had all kinds of preconceived notions or prejudices and later realized that most of that was totally untrue?
Maybe your present day best friend, when you first met, you thought one thing, but came to find out something totally different.
Maybe your husband/wife, at first....you get the point, I hope.


I would like to suggest the "clean sheet approach".
​For the moment, throw out all you ideas about God.
Come to Him just as you are, talk to Him as you would with someone on the phone,​
​tell him just how you feel, your questions, what you want from Him or what you want Him to do.
You could also ask Him what He wants from you..
And keep doing that, just because God doesn't appear in front of you right away, doesn't mean that He didn't hear you or isn't real...​​
He will reveal Himself to you in His time, in His way. He knows what's best.​


If you wanted to learn about George Washington, how would you go about it?
You probably would read a book about him, right?
To get to know God and Jesus Christ, you can read the new testament.
I would suggest to start with Ephesians chapter 2 and then proceed to the letter to the Romans, especially ​​​chapters 3 to 8 and then proceed to the letter to the Galatians....
After that pick one of the Gospels, that will tell you about the time Jesus Christ was here with us.​
You can only get to know God, if He reveals Himself to you!
In a way just like with us, if some one wants to be your friend and get to know you, it's really your decision "to let them get to know the real you"(to reveal yourself to that person) or to put up walls and just make it a surface relationship.
That person will either get to know the real you, or just know some things about you.​​