What Jesus did for us !

​
Because of God's Love for us !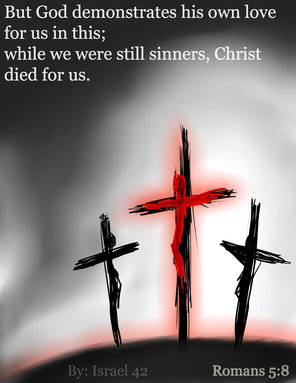 As a new christian, i'm sure you realize what made all this possible.

JESUS CHRIST DYING ON THE CROSS FOR OUR SINS.​
For​ the wages of sin is death (Romans 6:24) I am a sinner, because of my sins i deserve to die and go to hell, that is God's righteous judgement.
For as through the one man's (adam) dissobedience​ the many were constituted sinners, so also through the obedience of the One (Jesus Christ) the many shall be constituted righteous ones.(Romans 5:19)
So now my sins are paid for, death is made of no affect. And isn't that why we all are so thankful, right!​
For God so loved the world, that he gave his only son, that whoever believes in him, should not perish, but have everlasting life. (John 3:16)
So then, it is not of the one willing, nor of the one running,

BUT OF THE ONE

HAVING MERCY, OF GOD

.​​ So then, to whom He wills, He shows mercy; but to whom He wills, He hardens. (Romans 9:16,18) And how did God show this mercy?
Even we being dead in sins, He made us alive together with Christ; by grace you are having been saved. (Ephesians 2:5) Therefore we are;
So then if anyone is in Christ, that one is a new creation; the old things have passed away; behold, all things have come to be new. (2 Corinthians 5:17)​​
So now our Father has started a Grace-relationship with us, God giving us what we don't deserve and not giving us what we do deserve.
Being persuaded of this very thing, that the One having begun a good work in you will complete it until the day of Jesus Christ.(Philippians 1:6)
Now we are his workmanship created in Christ Jesus unto good works, which God before prepared​​​ that we should walk in them. (Ephesians 2:10)
​
But I'm such a big sinner, i can never stop....
But all the world around me, I can't make it........
But what do i got to do now???​
​​
Who brought you this far? Who is the one saving you? Who is the one keeping you? Who is calling you? Who planned all this out?



G​​od through Jesus Christ.
​
​
And he even has given us a guarantee;
H​is Holy Spirit

(dwelling in us)
Believe and trust your heavenly Father. Be thankful for what he has already done for you.
Draw closer to him. Ask him to fill you with his spirit and lead you and guide you in his ways.
If you go astray, don't despair. come back to Christ, call out to him, trust him again, believe that he loves you. He loved you while you were his enemy, how much more does he love you now that you are his son or daughter and is willing to help you and change you. Be patient with yourself as God has been patient with all of us.(Rome wasn't build in one day)
And keep drawing close to Him and He will draw closer to you.​​​
FROM NOW UNTIL ETERNITY, THE SINGLE MOST IMPORTANT THING;
​
JESUS CHRIST DIED ON THE CROSS FOR

MY

​ SINS, HIS BLOOD CLEANSED ME FROM ALL UNRIGHTEOUSNESS, BECAUSE OF WHAT HE DID

I AM

JUSTIFIED IN HIS EYES, AS IF

I

HAD NEVER

SINNED, MADE PERFECT IN FRONT OF GOD BY JESUS CHRIST'S BLOOD, THEREFORE

I WILL NOT

COME INTO JUDGEMENT BUT HAVE PASSED FROM DEATH TO LIFE.
As you continue in Him, you will watch Him change you, your desires will change, you will notice new desires, wanting to please your heavenly Father, desiring to escape sin. As before you couldn't wait to sin, it was like sport or an addiction to you, but now sin bothers you, you want to get away from it, you have better things to do....