​​


​​

1A

GOD'S GRACE

Are you a sinner? ​
​I would encourage ​

you to ​believe that God's Grace ​is ordained

for such a one​ as you are!


C. H. Spurgeon
But GOD demonstrates his LOVE to us in that we being yet sinners, CHRIST DIED FOR US! Romans 5:8
Faithful is the word and worthy of all acceptance; that CHRIST JESUS came into the WORLD to SAVE SINNERS…! 1Timothy 1:15 ​


​​
1D

Titus 2:11+12+13+14
For the saving Grace of God has appeared
To all men, instructing us that having denied
Ungodliness and worldly lusts, we should live
Prudently and righteously and godly in the
Now age, looking for the blessed Hope and
Appearance of the glory of our great God
And savior Jesus Christ, who gave himself
On our behalf, that he might redeem us from
All lawlessness ….
WORDFORTODAY2.COM
1B

Why is God's Grace so important?
Romans 5:21 That as SIN ruled in DEATH, so also GRACE might rule through righteousness to EVERLASTING LIFE, through JESUS CHRIST our LORD.
Romans 6:23 For the wages of SIN is DEATH, but the Grace-gift of GOD is everlasting life in CHRIST JESUS our LORD.
Ephesians 2:8+9 For by GRACE you are having been Saved through FAITH, and this not of yourselves it is The gift of GOD, not of works, that not anyone should boast.
1C

My favorite Grace scriptures;
2
Corinthians 8:9 For you know the GRACE of our LORD JESUS CHRIST, that being rich, HE became poor for your sake, so that you might become rich by the poverty of That one.
James 4:6 But HE gives more GRACE. Because of this it says; GOD sets himself against proud ones, but he gives GRACE to humble ones.
​
Therefore what is in our power to do? You and I can humble ourselves before GOD, that He may call us, save us, keep us, empower us and bring us home by his GRACE.
2A

How does one come to Christ?
For one; JUST AS YOU ARE, one comes to Christ!
No need to fix yourself up first or to present a pretty picture or to pretend to be someone you're not. Here is a good example of how to come to Christ;
Two men went to the temple to pray, a Pharisee and a tax-collector; the Pharisee standing by himself prayed thus; God I thank you that I am not like other men, extortioners, unjust, adulterers or even like this tax-collector. I fast twice a week; I give tithes of all that I get. But the tax-collector standing far off, would not even lift up his eyes to heaven, but beat his breast, saying;
God be merciful to me, a sinner!
I tell you, this man went down to his house justified, rather than the other. For everyone who exalts himself will be humbled, but the one who humbles himself will be exalted. Luke 18:10-14
Prayer changes things, praying to Jesus Christ really changes things




2B

What are the benefits of coming to Christ?
He gives us rest; meaning he relieves us of the burden and cares we carry with us. What is the biggest burden we carry with us? Our sins and the result of them is what really weigh us down. Jesus Christ died for our sins; therefore he can lift the burden of our sins from us and set us free. We are dead in our sins, dead to God. Any one coming to Christ; he forgives us for our sins and gives us life in him and we have PEACE!
This life and world is a confusing mess. Coming to Christ he will lead us and guide us, he will comfort us and he has all the answers that we don't have. And this is what he promises us;

All that the Father gives me, will COME to me, and him who comes to me, I will never cast out! John 6:37

Therefore if anyone is in Christ, he is a new creation. Behold the old has passed away, behold the new has come! 2 Corinthians 5:17


3D

Psalms 23 (ESV)
The Lord is my shepherd; I shall not want.
He makes me lie down in green pastures.
He leads me beside still waters.
He restores my soul. He leads me in paths of righteousness for his name's sake.
Even though I walk through the valley of the shadow of death, I will fear no evil, for you are with me; your rod and your staff, they comfort me. You prepare a table before me in the presence of my enemies; you anoint my head with oil; my cup overflows. Surely goodness and mercy shall follow me all the days of my life, and I shall dwell in the house of the Lord forever!


Wordfortoday2.com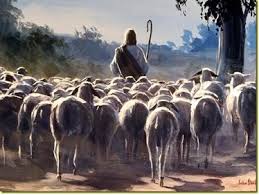 Are you one of God's sheep?
3B

All we like sheep have gone astray, we have turned
– Every one – to his own way; (Isaiah 53:6)
Jesus told this parable; (Luke 15:4-7)
What man of you, having a 100 sheep, if he has lost one of them, does not leave the 99 in the open country and go after the one that is lost, until he finds it? And when he has found it, he lays it on his shoulders, rejoicing. And when he comes, he comes, he calls together his friends and his neighbors, saying to them; rejoice with me, for I found my sheep that was lost. Just so, I tell you, there will be more joy in heaven over one sinner who repents than over 99 righteous persons who need no repentance.
Jesus said; My sheep hear my voice, and I know them and they follow me. I give them eternal life, and they shall never perish, and no one will snatch them out of my hand. (John 10:27+28)


Wordfortoday2.com
3C

Could you consider these Questions?
1. Do you ever feel like you are lost in this world?
2. Do you do things that you know you shouldn't be doing?
3. Do you wonder what your purpose or reason in life might be?
4. Do you wish things could be different?
5. Would you like to be close to God?
6. Is it possible that Jesus might be calling you?
If you answered any or all of these questions with a yes, you might just be ONE OF GOD'S SHEEP!
Jesus said; I am the door, if anyone enters by me, he will be saved and will go in and out and find pasture.
I am the good shepherd. The good shepherd lays down his life for the sheep. (John 10:9+11)


Friend us on Facebook; Word fortoday
4A

I Believe in the forgiveness of sins!


I even I, am He that blots out your transgressions for my own sake and will not remember your sins.
Isaiah 43:25
For I will forgive their iniquity and I will remember their sins no more. Jeremiah 31:34
For I will be merciful to their unrighteousness and their sins and their iniquities I will remember no more
Hebrews 8:12
And their sins and iniquities will I remember no more.
Hebrews 10:17
Blessed are those whose lawless deeds are forgiven and whose sins are covered; blessed is the man against whom the Lord will not count his sin.
Romans 4:6+7
4B

When a man's sins are set before him in the light of God's face, his first instinct is to fear that they are unpardonable. On account of these his conscience passes judgment upon his soul and condemns it even as the law does. God must punish wickedness. So he concludes that the Lord cannot willingly forgive. That part of the hardness of his heart goes to deepen the conviction that God will not pass by his transgressions and man therefore feels dismayed + hopeless of mercy. The devil comes in with all the horrors of the eternal pit and threatens speedy destruction. For once the devil craftily agrees with the law of God and with man's conscience, but satan would go further and compel them to despair as to coming to the Lord, himself, so as to believe that pardon for transgressions is quite impossible. The convinced sinner is able to believe that mercy may be shown to others, but as for himself, he signs his own death warrant and labors under full persuasion that the acts of God's mercy can never extend to him. No chain can hold a man so fast as his own guilty fears.
4C

There is forgiveness with you, Lord, that you may be feared!
Let us adore the Lord for he delights in mercy!
If the Lord had no pardons, wouldn't He have let us die long ago?
Haven't we sinned early in life and most of us a lot too?
Why did Christ Jesus come into the world?
Christ Jesus came into the world to save sinners
How did God demonstrate his love?
But God demonstrates his love to us in that we being yet sinners, Christ died for us.
For God did not sent his son into the world that he might judge the world, but that the world might be saved through him.
4D

There is forgiveness!


​ Their sins and iniquities will I remember no more! NO MORE, NO MORE!!!!!! Let those words go echoing through the chambers of despair. <<<<<NO MORE, NO MORE>>>>>>> Who is a pardoning GOD like you? And who has GRACE so rich and so free? So COME to Christ without delay Just as you are, COME, but without delay And COME to Christ right away All good things are in COMING to CHRIST! www.wordfortoday2.com
​
​Tract adapted from C. H. Spurgeon's sermon #1685
5A

The way of salvation;
Is you coming to Christ. But many say; "I am afraid I do not come the right way." How unwise we are in the matter of salvation! We are more foolish than children are in everyday life. A mother says to her child, Come here, I will give you this apple. The first thought of the child is about the apple; the second thought of the child is about its mother; the very last thought is about the way of coming. His mother told him to come, and he does not say, but I do not know whether I will come rightly. He totters along as best he can, and he doesn't think twice about it, the apple is all that occupies his mind.
But when you say to a sinner, Come to Christ, and you shall have eternal life, he thinks about nothing but his coming. He will not think about eternal life, nor yet about Jesus Christ, to whom he is bidden to come, but only about coming, when he need not think of that at all, but just do it–do what Jesus bids him–simply trust him. What kind of coming is that which saves a soul? Any coming, if it does but come to Jesus Christ!
5B

The saying is trustworthy and deserving of full acceptance, that Christ Jesus came into the world to save sinners, of whom I am the foremost! 1 Timothy 1:15

​For God did not sent his Son into the world to condemn the world, but in order that the world might be saved through him. John 3:17

For while we were still weak, at the right time Christ died for the ungodly. And God shows his love for us in this; that while we were yet sinners, Christ died for us. Romans 5:6+8
But now in Christ Jesus you who once were far off have been brought near by the blood of Christ.
​ Ephesians 2:13
For I delivered to you as of first importance what I also received; that Christ died for our sins in accordance with the scriptures, 1 Corinthians 15:3
5C

Absolutely no one should go to hell!
Yet so many will. Why? Because God through Jesus Christ isn't able to save them? Because they cannot be saved?
No way! It isn't God's will that any should perish, but that all should reach repentance. God made a way through Jesus Christ's death on the cross. He made a way for all of us. So why will so many perish?
Because the god of this world has blinded the minds of the unbelievers, to keep them from seeing the light of the gospel of the glory of Christ, who is the image of God. 2Cor. 4:4
God made a great sacrifice by giving up his only Son so that we could obtain Salvation by his Grace!
For the Grace of God has appeared, bringing Salvation for all people! Titus 2:11
For this is the will of my Father, that everyone who looks on the Son and believes in him should have eternal life and I will raise him up on the last day! John 6:40


Therefore come to Christ for Salvation!
5D

We are ambassadors for Christ,
God making his appeal through us. We implore you on behalf of Christ, be reconciled to God. For our sake he made him to be sin who knew no sin, so that in him we might become the righteousness of God. Working together with him, then, we appeal to you not to receive the Grace of God in vain.
For he says; in a favorable time I listened to you, and in a day of salvation I have helped you.
Behold now is the favorable time; behold, now is the day of salvation! 2 Corinthians 5:20+21/6:1+2
For the wages of sin is death, but the Grace-gift of God is eternal life in Christ Jesus our Lord. Romans 6:23
So come to Christ, the only one who can save you, call out to him! You cannot save yourself, religion cannot save you, church cannot save you, other people cannot save you, nor can good deeds or anything of that sort save you.


Christ is our salvation, so come to him!
2. How does one come to Christ tract
3. Are you one of God's sheep tract
4. I believe in the forgiveness of sins tract!
5. The way of Salvation tract
6A

Is God calling you?


Jesus said to them, those who are strong have no need of a physician, but those badly having illness. I did not come to call the righteous to repentance, but sinners. Mark 2:17


Are you a sinner?


For all sinned and fall short of the glory of God.
Romans 3:23
All we like sheep have gone astray… Isaiah 53:6


Are you one of God's sheep?


My sheep hear my voice, and I know them, and they follow me. I will give them eternal life, and they will never perish and no one will snatch them out of my hand. John 10:27+28
6. Is God calling you tract
6B

Ok, let's back up a little….
Suppose an important person called you? Would you respond? Would you pay attention? Or if you were lost in the desert of the world and someone called you? Someone that knew the way out of this desert and could lead you to a better Land, would you pay attention? Would you be inclined to listen?
Scripture examples of being called;
As Jesus passed on from there he saw a man called Matthew sitting at the tax booth and he said to him; FOLLOW ME. And he rose and followed him. Matthew 9:9
And Jesus said to Simon Peter and Andrew; FOLLOW ME…And immediately they left their nets and followed him. Mark 1:17&18
6C

The Invitation


Jesus said;
Come to me all you who labor and are heavy laden and I will give you rest! Matthew 11:28
God is faithful, by whom you were called into the fellowship of his son, Jesus Christ our Lord.
1 Corinthians 1:9


If you hear God calling you, respond and follow him and look at what God promises!


And those whom he predestined, he also CALLED, and those whom he CALLED, he also justified and those whom he justified, he also glorified. Romans 8:30
6D

But where sin abounded, GRACE much more abounded, that as sin ruled in death, so also GRACE might rule through righteousness to eternal life through Jesus Christ our Lord.
Romans 5:21
Even when we were dead in our trespasses, made us alive together with Christ-by GRACE you have been saved. For by GRACE you have been saved through faith. And this is not your own doing; it is the gift of God, not a result of works, so that no one may boast.
​ Ephesians 2:5+8-10
And after you have suffered a little while, the God of all Grace, who has called you to his eternal glory in Christ, will himself restore, confirm, strengthen and establish you.
​ 1 Peter 5:10

7. For God so loved the world
1. Finding Hope
Our world is a bad place and it is getting more evil as time goes on. Yes, on the surface it is made to look beautiful and attractive, but behind the scenes - what is really going on? Really, isn't everyone just looking out for self and forgetting everyone else? As beginners in life we all have many and various hopes, but eventually they run out or they don't do for us what we expected them to do. The world makes many promises, yet it seldom keeps them and most of us become disillusioned after all the disappointments we experience. We join the rat race and end up slaves to the grind and many of us give up on Hope and settle for some sort of routines or we try to break out but only end up doing the things that are hurtful to ourselves and others.
But there really is Hope!


2. How do you find this Hope?
Are you looking for HOPE in all the wrong places? Or did you even give up on HOPE altogether? Remember, we are not just physical beings, we are more than that. We don't just live and die and that's the end of the story. It is in our Creator where you and I can find real HOPE for now and for our future. Because he is the one who made us. He made us for a purpose. Therefore he has all the answers we ever need. For anyone wanting real hope all you need to do is "look" to our Maker. Come to him and you will find safety and hope. Our Creator is able to offer us HOPE and a future because he took care of our real problems, which caused us to have fear and leave us feeling hopeless.
Our biggest problems are; we are going to die, no one gets to lives here forever and we all do wrong things, nobody is perfect. But because God loves us, He sent his Son to die for our sins and Jesus Christ came and willingly died for us and after 3 days rose from the dead. That gives us HOPE!


3. This Hope is available to you!
For I know the plans I have for you, declares the LORD, plans for welfare and not for evil, to give you a future and a hope. Then you will call upon me and come and pray to me, and I will hear you. You will seek me and find me, when you seek me with all your heart.

Jeremiah 29:11-13


Remember that you were at that time separated from Christ, strangers to the covenants of promise, having no hope and without God in the world. But now in Christ Jesus you who once were far off have been brought near by the blood of Christ. For he himself is our peace, who has made us both one and has broken down in his flesh the dividing wall of hostility

Ephesians 2:12&13


Blessed be the God and Father of our Lord Jesus Christ! According to his great mercy, he has caused us to be born again to a living hope through the resurrection of Jesus Christ from the dead,

1 Peter 1:3
4.But this I call to mind, and therefore I have HOPE:
The steadfast love of the Lord never ceases; his mercies never come to an end; they are new every morning; great is your faithfulness. "The Lord is my portion," says my soul, therefore I will HOPE in him."

Lamentations 3:21-26


The Lord is good to those who wait for him, to the soul who seeks him. It is good that one should wait quietly for the salvation of the Lord. Our soul waits for Jehovah; He is our help and shield. For our heart rejoices in Him because we trust in His holy name. Let your mercy be upon us, O Lord, even as we trust in you.

Psalm 33:20-22


But may our Lord Himself, Jesus Christ, and our God and Father, the One having loved us and having given everlasting comfort and good hope by grace, encourage your hearts, and may He establish you in every good word and work.

2 Thess. 2:16&17




Find us on Facebook; Word Fortoday
"The Good News"
This picture illustrates the message of the gospel;
For God loves the world so much, that he even gave up his only Son to save his own from perishing, to save them from eternal death, through his son Jesus Christ dying on the cross for our sins. Jesus Christ took the punishment we so rightly deserve and gives us life in him. This salvation opportunity is FREE to all who come to him. Not only are those who come to him forgiven and justified, but they also receive the Holy Spirit and they start a new life as beloved sons and daughters with God being their Heavenly Father and leading them on their journey toward Heaven. Like you can see in the illustration, the person coming to Jesus Christ has his dirty rags replaced by new clothes and he "crosses over" from living according to the flesh to learning to walk according to the Spirit and to live the way God wants him to.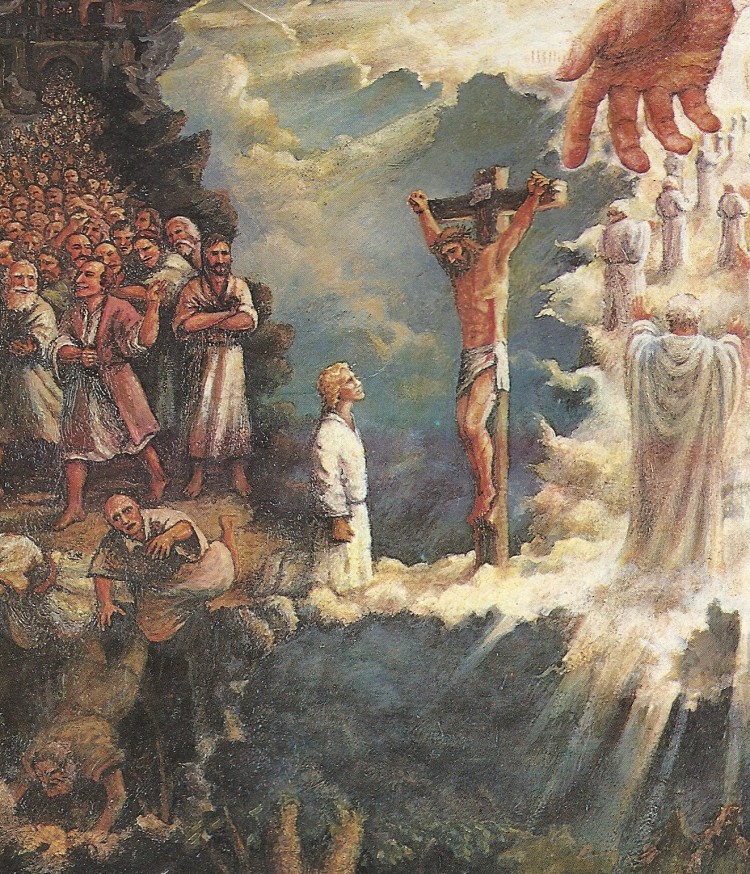 On which side would you like to be?


​
We all start out in this world and dream and hope. But instead of our hopes coming true we end up entangled and trapped. We become "slaves to the grind" or "prisoners of our addictions". The prospects of attaining a meaningful life become more and more hopeless.
But hold on; there is a way out! Look at the illustration, there is a person not going along; he turned to believing in Jesus Christ. He turned away from his futile pursuits and came to believe that Jesus died for his sins. He is "crossing" over by God's Grace and is changing direction; instead of continuing in a downward spiral he is now heavenly bound. You may want to know; how can I "cross- over"?
Come to Jesus Christ, pray – ask and you shall receive! Turn to him and pursue a heavenly calling!

The Gospel of John 3:16-21


For God so loved the world, that he gave his only Son, that whoever believes in him should not perish but have eternal life. For God did not send his Son into the world to condemn the world, but in order that the world might be saved through him. Whoever believes in him is not condemned, but whoever does not believe is condemned already, because he has not believed in the name of the only Son of God. And this is the judgment: the light has come into the world, and people loved the darkness rather than the light because their works were evil. For everyone who does wicked things hates the light and does not come to the light, lest his works should be exposed. But whoever does what is true comes to the light, so that it may be clearly seen that his works have been carried out in God. (English Standard Version)
9. Repent and Believe the Gospel tract
1. Repent & believe in the Gospel!
Jesus came into Galilee proclaiming the gospel of the kingdom of God, and saying, the time has been fulfilled, and the kingdom of God draws near. REPENT and believe in the gospel. Mark 1:15
From that time Jesus began to preach and to say, REPENT! For the kingdom of Heaven has drawn near. Matthew 4:7
And REPENTANCE and remission of sins must be preached on His name to all the nations, beginning from Jerusalem. Luke 24:47
Earnestly testifying both to Jews and to Greeks REPENTANCE toward God and faith toward our Lord Jesus Christ. Acts 20:21
Jesus Christ did not come to call the righteous, but sinners to REPENTANCE. Luke 5:32
2. What is Repentance?
Today's world lacks an understanding of what it means to repent. So let's try to understand what Repentance is. In Latin it means to "think again". In Greek (the language of the New Testament) it means to "change your mind".
About what are we to "think again" & "change our minds"?
1. Change your mind/think again about GOD!
2. Change your mind/think again about YOURSELF!
3. Change your mind/think again about SIN!
This Jesus Christ God has exalted as a Ruler and Savior to His right hand, to give to Israel REPENTANCE and remission of sins. Acts 5:31
The Lord is not slow to fulfill his promise, but is patient toward you, not wishing that any should perish, but that all should reach REPENTANCE.
​ 2 Peter 3:9
Do you not know that the kindness of God leads you to REPENTANCE? Romans 2:4
3.We think we are pretty good, but;


"None is righteous, no, not one; no one understands;
no one seeks for God. All have turned aside; together they have become worthless; no one does good, not even one." Romans 3:10-12
For all have sinned and fall short of the glory of God,
Romans 3:23
For as by Adams disobedience all were made sinners, so by Jesus Christ's obedience all his own will be made righteous. Romans 5:19 (in my own words)
Where sin increased, grace abounded all the more, so that, as sin reigned in death, grace also might reign through righteousness leading to eternal life through Jesus Christ our Lord. Romans 5:20&21
For the wages of sin is death, but the free gift of God is eternal life in Christ Jesus our Lord. Romans 6:23
4. Joy in Heaven and before the Angels!


There is more joy in Heaven over one sinner REPENTING, than over ninety nine righteous ones who have no need of repentance. I say to you, so there is joy before the angels of God over one sinner REPENTING. Luke 15:7&10
Therefore, REPENT, and CONVERT, for the blotting out of your sins, so that times of refreshing may come from the face of the Lord. Acts 3:19
And hearing these things, they kept silent and glorified God, saying, then God also has granted to the nations REPENTANCE unto life. Acts 11:18
For the grief according to God works REPENTANCE to salvation, not to be regretted. But the grief of the world works death.
​ 2 Corinthians 7:10
In meekness teaching those who have opposed, if perhaps God may give them REPENTANCE for a full knowledge of the truth. 2 Timothy 2:25
Are you Born again/Saved/Converted?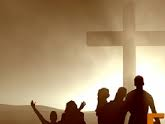 If anyone is in Christ, he is a new Creation. The old has passed away; behold, the new has come. 2 Corinthians 5:17
Are you a Christian?


If you are it was in one way only, the same way that Abraham was saved and the way everyone has been saved throughout the centuries. Abraham was a pagan living in Mesopotamia when something happened to him that changed his life forever! God came to him and called him and told him to leave his country and God promised him his own land and a multitude of descendants, he promised him that he would become the father of a new nation. Not just a physical nation but a nation of faith, a nation of people just like Abraham.

(Genesis 12 -25)


This means I must do what Abraham did. I must believe God and believe what he says in his word. As it is written: "None is righteous, no, not one."

Romans 3:10


For all have sinned and fall short of the glory of God, so that every mouth may be stopped, and the whole world may be held accountable to God.

Romans 3:23&19
There is only one way to become a Christian


That is to realize your utter hopelessness and helplessness and to trust yourself, just as you are, to Jesus Christ, the Son of God, who loved us and gave himself for us, bearing the punishment for our sins on the cross – that is the beginning, to trust that he died for me, in my place!
But when the goodness and loving kindness of God our Savior appeared, he saved us, not because of works done by us in righteousness, but according to his own mercy, by the washing of regeneration and renewal of the Holy Spirit, whom he poured out on us richly through Jesus Christ our Savior, so that being justified by his grace we might become heirs according to the hope of eternal life.

Titus 3:4-7


Who saved us and called us to a holy calling, not because of our works but because of his own purpose and grace, which he gave us in Christ Jesus before the ages began.

1 Tim. 1:9
First; Come to Christ!
Second; Follow Him!
Yes we are saved from something. But that's not the only thing. We are also saved for something!
Jesus Christ, who gave himself for us to redeem us from all lawlessness and to purify for himself a people for his own possession who are zealous for good works.

Titus 2:14


God through Jesus Christ saved us from death & hell. He cleanses us from the guilt of sin, saved us from the power of sin and begins sanctifying us from the pollution of sin.
But you are a chosen race, a royal priesthood, a holy nation, a people for his own possession, that you may proclaim the excellencies of him who called you out of darkness into his marvelous light. Once you were not a people, but now you are God's people.

1 Peter 2:9,10




And that's what we are saved for! Amazing Grace!