Jesus Christ said;
​

HIM WHO COMES TO ME, I WILL NOT CAST OUT, NEVER!

John 6:37
There is

no condemnation

for those who are in Christ Jesus

Romans

8:1
Jesus also said;


​Come to me all you who labor and are heavy ladden and

I will

give you rest!
MY GRACE IS SUFFICIENT FOR YOU!
2 Corinthians 12:9​
Our Heavenly Father has made very great and precious promises to his own, that through them we may become partakers of the divine nature, having escaped from the corruption that is in the world because of sinful desire.
2 Peter 1:4​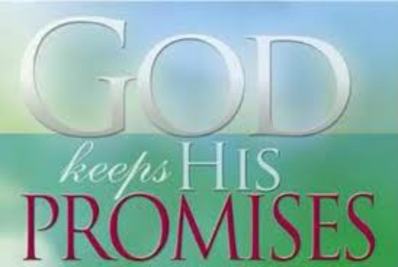 God promises; his own believe!
Jesus said; all things are possible to him who believes. And immediately the man cried out;

Lord I believe, help my unbelief.

Mark 9:23​+24
God is no liar.He keeps his word


Psalms 89:34​
God makes many promises to his own, his children. He also is very patient and forbearing toward all of his creation, but he also makes promises to those who persist in unbelief and disregard all the things he has done for them, most of all giving his son to die on the cross for our sins.
Taste and see that the Lord is good!
Joshua said;

you all know in your hearts and souls, that not one word has failed of all the good things that the Lord your God promised concerning you. All have come to pass for you; ​not one of them has failed. (Joshua 24:14)
And this is the promise he has made to us;
ETERNAL LIFE!
1 John 2:25
For I know the plans I have for you, says the Lord, plans for welfare and not for evil, to give you a future and a hope!

Jeremiah 29:11



And I am sure of this, that he who began a good work in you will bring it to completion at the day of Jesus Christ!​​

Philippians 1:6

No man shall be able to stand before you all the days of your life. Just as I was with Moses, so I will be with you.
​

I will not leave you or forsake you!

Joshua 1:5​​
Do you have the Faith to believe God and what he promises?
Is it in you to believe what God says?


At least, you want to believe God and his promises, right?​